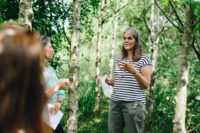 The golden thread – a little bit about my why
In my last blog, I wrote about why it's important to connect with our 'why' – to understand what drives us, what matters and what keeps us engaged with who we are and what we do.
Well, it was an absolute pleasure to speak with Anna-Marie Watson and Paul Jefferies from the Coaching Outdoors Podcast a couple of weeks ago who invited me to do, among other things, just that, connect with my 'why'. We chatted about my earliest memories of being outdoors, what brought me to coaching, the importance of community and sense of place, of Street Wisdom, creating my Outdoor Coach Coaching Cards, the Consciously Connected Coaching Collective and how taking a question to a high up place usually returns an answer.
Have a listen and let me know what you think!