June 22 and 23, Rossendale, Lancashire
 Imagine…
It's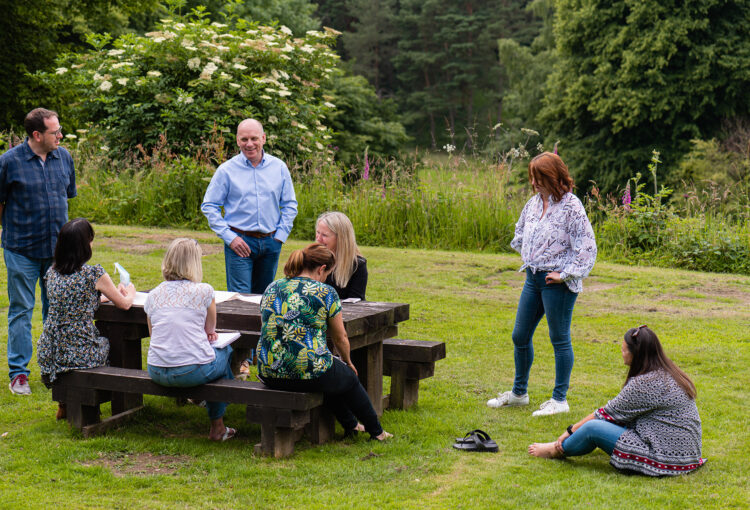 the time of the Summer Solstice. The swallows are flitting and the days are long. Colours are vibrant and you can feel the warm, gentle breeze. All the trees are in leaf and the bright blue sky above the moorland is expansive and calm.
And now imagine 2 days of immersive coaching, learning and connection in this environment; a welcoming space to explore, practice and reflect.
There will be fresh air, good food and lots of opportunity to coach (and be coached) outdoors. We'll explore (among other things) coaching constellations, clean space, metaphors and our outdoor connections – with ourselves, our clients and the outdoor space. We will notice what we know in our bodies as well as our minds and share our reflections around an open fire.
 If this sounds like it is for you, here's what you need to know:
You'll arrive on 22nd June at around 10.30am to tea and cake and there will be time to settle in before we begin at 11am.
Until 1pm, when we'll share a good lunch, we'll get to know one another and start to explore our connection with the outdoors, ourselves and each other.
After lunch, we'll explore and practice concepts, models and approaches until afternoon refreshments and a 5pm close.
We'll come back together for a meal at around 6.30pm and there will be the option of a guided evening walk at a steady pace in the surrounding countryside.
The evening will finish with some shared reflections (and perhaps even marshmallows!) around a campfire.
After a good night's sleep and delicious breakfast, you can choose a morning yoga practice which connects to our coaching explorations (no yoga experience needed) before we experiment with more coaching tools outdoors.
There will be time to practice, connect and reflect with others before we have lunch and close at 3pm.
Lunch and dinner on day 1 and all refreshments, and breakfast, lunch and refreshments on day 2 along with all the resources you'll need are included in the event price of £350. So you can choose the type of accommodation which best suits you, this is charged for separately. There is a wonderful range of options on site for 1 and 2 nights; download more information here. You are invited to liaise directly with the venue to book your choice of accommodation. Let them know you are part of this event to receive your preferential rate.
 Over our time together, you will have:
The opportunity to practice coaching outdoors and the rare chance to receive high quality feedback from your peers
Space to reflect on outdoor coaching models and approaches and a set of tools and insights to take away
The chance to further embed your existing outdoor coaching skills and to share these with others
The gift of being coached by your fellow participants
Build connections with other
outdoor coaches over coaching conversations, good food and lots of fresh air
Who is the event for?
Coaches new to practicing outdoors who want to find confidence and ways to work outdoors
Teachers, trainers and anyone working outdoors 1-1
Coaches who have been practicing outdoor coaching for a while and want to come together with other outdoor coaches
Whether you're training to be a coach, a new coach or have lots of coaching experience, there is space for you here. You are all welcome.
Terms and Conditions for the event are here. Please read before booking. These terms are specific for this event and take priority over the general terms at booking.